History of Cunninghame Choir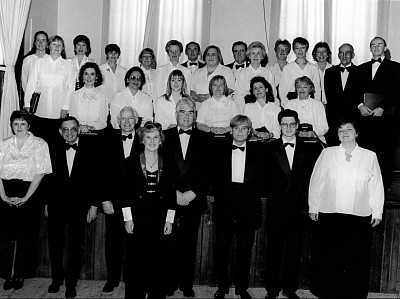 Cunninghame Choir was founded in 1978 in order to fill a gap in the musical life of North Ayrshire. There was not in existence a choir whose sole aim was the regular performance of choral and orchestral music. In September 1978, a group of enthusiasts began rehearsing in Beith Community Centre - performing their first concert in April 1979. 40 years on, the choir has followed an interesting musical journey through the guidance of a number of very enthusiastic and experienced Musical Directors.
Adjacent picture taken around 1996 during Dorothy Howden's tenure as Musical Director.

2019 - 40 Years of Cunninghame Choir!
Our 2018-19 season marked 40 years since Cunninghame Choir started singing and performing together. To celebrate this occasion, we commissioned our talented and creative accompanist, composer Maciej Granat, to write us another piece of music for performance in May 2019. This work sets to music a poem by local character, Andrew Aitken, musing on hearing Beith's Parish Church bell toll for the first time in 1810. Our 40th anniversary concert also revisited a previous Choir commission from renowned Scottish composer, Sir James MacMillan. It proved to be a very exciting, emotional and unique concert of music!
Musical Directors
In its 44 year history, the Choir has been led by 5 highly talented and enthusiastic Musical Directors.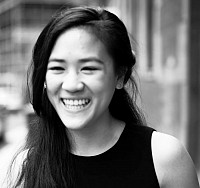 Tiffany Vong, Musical Director 2016 -
Tiffany joined Cunninghame Choir as Musical Director in September 2016 and is already taking the choir on a new, interesting and highly enjoyable musical journey. You can read Tiffany's biography on our People page.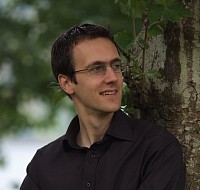 Robin Versteeg, Musical Director 2007 - 2016
Robin Versteeg was born and brought up in Edinburgh, and studied Music at the University of Edinburgh and Royal Academy of Music in London. As a pianist, Robin performs with singers and instrumentalists throughout the UK and,  as a founding member of chamber trio Vocali3e, was featured in Creative Scotland's prestigious Made in Scotland showcase.   
Choral music has played a central part of Robin's working life over the past ten years. An experienced repetiteur and choral accompanist, Robin has played for the Edinburgh Festival Chorus, Royal Scottish National Orchestra Chorus, Scottish Opera Education, and Cappella Nova Outreach. He enjoys collaborating with young people and has worked extensively with NYCOS and Glasgow City's Voice Factory, and as an audition pianist for the National Youth Orchestras of Scotland. As repetiteur for Cromarty Youth Opera, he has assisted on Peter Maxwell Davies's Cinderella, and Britten's St. Nicolas and The Little Sweep.
Also a former Musical Director of Eastwood Choral Society, Robin's association with Cunninghame Choir began in 2007, where he immediately began introducing new and varied music to the choir. An overarching theme would bring a variety of genres, styles and musical eras together and make for an interesting and enjoyable concert for choir and audience alike. Have a look at our concerts page to get a feel for the breadth of our repertoire under his direction.
Following our 2015 season, Robin and his wife, Emma, decided that it was time to relocate their young family to the Scottish Highlands. They settled in Dulnain Bridge in the Spey Valley in time for son Elijah to begin school. We thank Robin for his never-ending enthusiasm, commitment and patience as we have navigated our way around some wonderful pieces over the past 9 years. We also wish Robin and his family the very best for their future and hope that he will not forget us. We will certainly miss him!

Edward Caswell, Musical Director 2005 - 2007
Edward Caswell trained as a singer at the Royal College of Music and now teaches singing at RSAMD. As a talented choral conductor and soloist, during his short tenure he introduced Rossini's Petite Messe Solennelle and reunited the Choir with Beethoven's Mass in C, Mozart's Ave Verum and highlights of Handel's Messiah as well as some lesser known Christmas Carols and selected choruses from "musical" heavyweights, Rogers and Hammerstein.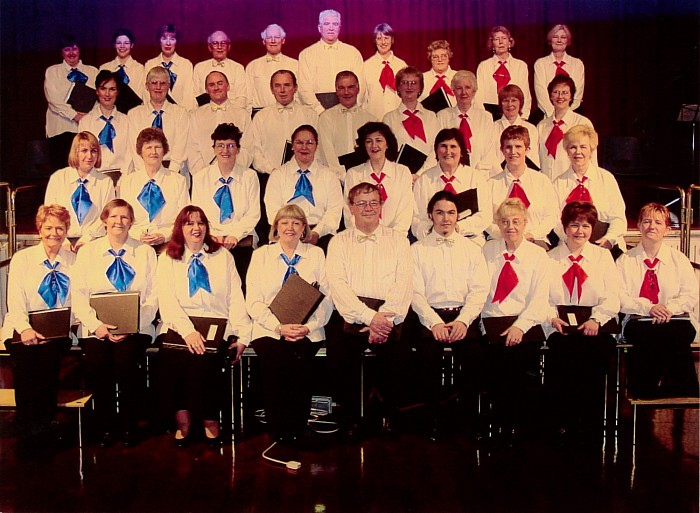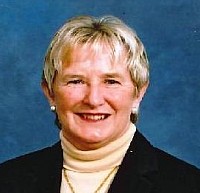 Dorothy Howden, Musical Director 1984 - 2005


Dorothy, an enthusiastic and talented music teacher and advisor, examiner and adjudicator, orchestral and choral conductor and RSAMD graduate of piano, singing and 'cello, succeeded Marshall Todd in June 1984. During her significant tenure, Dorothy inspired the Choir with her motivational enthusiasm and imagination. She greatly expanded the choir's repertoire in many directions, introducing Bruckner, Brahms, Bach, Rutter and Tippett as well as directing the Choir's first complete Messiah in Beith in December 1991. 
Dorothy continued the policy to commission new works from young composers every 5 years - resulting in works from James MacMillan, Jane Gardner, Keith Murphy and Robin Erskine (details of each commission given below). In recognition of this approach to programme-building, the Choir received an Enterprise Award from the Performing Rights Society in October 1993, presented in London by
Sir Peter Maxwell Davies
. In 1998, the Choir again broke new ground by organising a competition for young composers - the prize being the commission to write a work for the Choir's 20th Anniversary Concert (
In Dreams Alone
, composed by 23-year-old RSAMD B.Ed Music graduate, Keith Murphy).
Commissions under Dorothy Howden
The
10th Anniversary
commission, performed in May 1989, was a work entitled
Fons Pietatis
composed by
James MacMillan
.
Programme notes for Fons Pietatis (written by the composer) - 
This work is a labyrinthine elegy on the departure of a loved one. It deals with the archetypal feelings and draws together loosely related texts, ancient and contemporary, sacred and secular, into a unified, organic flow of ideas. The central text, "The Bed" by Lou Reed is the most explicit allusion to a tragic outcome, but the other texts are tangential thought patterns on the central event. "She Has Gone" is an expression of grief at the loss of a beloved; "Liber Scriptus Proferetur" approaches the question of guilt and blame (where is the injustice here?); the nuptial blessing from the "Book of Tebit" is a forlorn yearning for what might have been; and "Christus vincit" is an attempt to draw from Christian tradition something which can heal, make new and provide hope.
The 15th Anniversary commission, performed in May 1994, was Rasa by Jane Gardner.
Programme notes for Rasa - 
"Rasa" (Rosoh) is Indonesian for "feeling, experience, opinion, notion, idea, meaning". The word cannot be satisfactorily translated. One might have a "rasa" when tasting delicious food or, conversely, when seeing a homeless person in the street.
The sung text is famous in Java and often used in traditional pieces with gamelan, the Indonesian version of a western orchestra. It comprises seven verses, which describe basic morals through sophisticated riddle poetry. The language is old Javanese, spoken only by an educated minority, rather than the Indonesian language, which is widely used. At the beginning and end of Rasa, the chorus chants the onomatopoeic words of the drum sounds: dhung, dah, tak, tong etc., and at other points in the work they sing the Indonesian equivalent of solfah: ji, ro, lu, pad.
The piece should not, however, be perceived as Javanese music transcribed for western musicians even although texts and musical techniques have been borrowed from that culture. Rather, the audience should listen to it with its own ears, wherever those ears may be.
After all, since experiencing Java, the composer is all the more aware, and pleased, at the fact that she is Scottish.
The 20th Anniversary commission, performed in May 1999, was a piece named In Dreams Alone composed by Keith Murphy.
Programme notes for In Dreams Alone (written by the composer) -
This commissioned work was completed in December 1998 and is scored for SATB, string orchestra and tubular bells. In choosing the text, I wanted to find something suitable by a Scottish poet, as we have a rich and varied cultural background, which I am keen on promoting. The text I found, "the Prisoners Sleep" by Flora Maitland MacRae, instantly struck me because of its emotional content, which I found very powerful. The music is generally of a dark nature reflecting the text, interspersed with brighter, more optimistic sections particularly when the prisoner is daydreaming. The tubular bells have always had very dark associations in my mind, and they reflect a death toll, especially at the end of the piece.
Programme notes for Ode: Pied Beauty (written by the composer) -
Twenty-five years of remarkable musical achievement, good fellowship and sheer entertainment are the background for today's celebrations. To be invited to write music for such a celebration is indeed an honour: but what kind of musical fireworks should we celebrate with - fanfare - a carillon - a hymn of praise - an appreciation of life, nature and beauty? With a Scottish connection? All these are present in the Ode, which sets the words of Gerard Manley Hopkins' poem "Pied Beauty", delighting in the picturesque - to be found everywhere around us.
Hopkins, a convert to Roman Catholicism, was at one time curate of St Joseph's Jesuit Church, Woodside, Glasgow (where I was later to be organist and choirmaster). There the Latin Mass was said daily, and the words of the Gloria - "Glory to God in the highest" - are the starting point for "Pied Beauty".
After the opening fanfare and carillon, a celebration of today's anniversary, the plainsong theme of the Gloria is heard in the trombones and trumpets, continued by other instruments as the music gives way to an impressionist texture for harp and flutes - "Glory be to God for dappled things". The poetry is full of vivid and colourful images, drawing together as the poem progresses in an ascription of praise. The sound of bells is never far away and the fanfare and carillon return, ending the work as it began - a celebration in words and music of a superb achievement by the Cunninghame Choir!
Marshall Todd, Musical Director 1978 - 1984


Marshall Todd, a piano teacher, accompanist and performer graduated from RSAMD in 1962. A wide experience of choral repertoire and two tours of America with the SNO Chorus led to his appointment as Musical Director in 1978. Marshall's enthusiasm and energy motivated his singers into tackling the not-insignificant complexities of Handel's
Chandos Anthem No. 9
and Mozart's
Coronation Mass
, together with a number of shorter programme-fillers. The result was a creditable showing at the inaugural concert in April 1979 in Trinity Church, Beith, before a large and curious audience. In the years that followed, the Choir performed many works from various choral masters including Handel (
Dettingen Te Deum
,
Utrecht Jubilate
), Britten (
Rejoice the Lamb
), Faure (
Cantique De Jean Racine
) Mozart (
Requiem
) and Schubert (
Mass in G
) to name but a few. Marshall also instigated a tradition to commission special choral works for the choir starting with a commission for the Choir's 
5th Anniversary.
Songs of Celebration
, composed by
Philip Wilby
, was performed by the choir in May 1984.
Programme notes for Songs of Celebration - 
Songs of Celebration was written specially for Cunninghame Choir by Philip Wilby in response to a request for a work of not more than 10 minutes duration, scored for chorus, strings, organ and percussion. Within these guidelines, the composer has produced an exciting work with a distinctively modern idiom.
The choral writing is challenging, but skillfully constructed within the scope of a musically ambitious amateur choir. The same skill is evident in the orchestral writing, which demands continual alertness from the players.
The commission was made possible with financial assistance from the Scottish Arts Council.