Concerts and Repertoire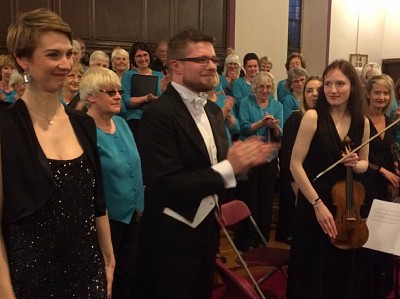 Cunninghame Choir is developing a
reputation for its innovative themed concert programmes, which often draw together music from very different periods, countries or even genres under an overarching title or idea. This enables us to explore all sorts of repertoire, from folk songs and spirituals, through hymns and musical numbers, to large-scale choral works with soloists and orchestra. Details of our upcoming events and concerts can be found below.
Picture: A delighted Maciej Granat after our world premiere performance of his Requiem.

Rehearsing every Wednesday evening
7.30-9.30pm at Beith Community Centre. 
Our rehearsals are open to all and we welcome new and returning members alike. No prior ability to read music is required and we do not hold auditions.  Practice MP3s and CDs are available to aid familiarity and confidence. We are currently rehearsing for our upcoming Come and Sing day and evening concert, A Faure Soiree.
*****************************************
A Faure Soiree
Sunday 29th May, 7pm, Beith Community Centre
A short performance of our afternoon's 'Come and Sing' repertoire starts off our evening programme.
Following a short interval the choir will perform Gabriel Faure's sublimely beautiful Requiem, with support from our Come & Sing guests, piano accompaniment and professional soloists.
Tickets by donation and all sale proceeds in aid of the DEC Ukraine Appeal. (suggested £5 minimum donation)
Drop us a line via our Contact us page or Facebook page for details on how to join in.
*****************************************
CUNNINGHAME CHOIR - REPERTOIRE
The following programmes from our last few seasons gives an idea of the Choir's range and versatility.
NORTHERN LIGHTS - November 2019
An inspiring journey through the beautiful and ethereal music of our Nordic neightbours! Visiting Norway, Denmark, Finland, Sweden, and Iceland, we featured works by leading classical composers Edvard Grieg, Carl Nielsen, and Jean Sibelius, as well as contemporary Norwegian composer Ola Gjeilo (Northern Lights, The Rose) and Icelandic composer Bára Grímsdóttir. Spanning the late nineteenth century through to the present day, the music comprised folk-inspired arrangements, Latin church music, seasonal Christmas songs, and rounded off with an upbeat and toe-tapping Abba medley! Download our Northern Lights programme here.  

THE FIRST TOLL, 40th Anniversary concert - May 2019
A premiere performance of a brand new commission from talented composer, Maciej Granat. The First Toll sets to music words by Andrew Aitken, 'The Beith Poet', musing on his hearing the Beith Parish Church bell toll for the first time in 1810.  The celebration also included Palestrina's joyful motet, Exultate Deo, James MacMillan's Changed and Franz Schubert's elegant Mass in G. Download The First Toll programme here and watch the performance recording below.
A SCOTTISH CELEBRATION! - November 2018
To mark St. Andrews Day this programme celebrated all things Scottish; its history, heritage, regions and poetry. Emotive suites such as Tom Cunningham and Alexander McCall Smith's Scotland at Night and Ken Johnson's I Landed with Seven Men, the story of the Bonnie Prince, Charles Stuart's final Jacobite Rising of 1745, were interlaced with new compositions by young composers Maciej Granat (Three Scottish Songs) and Lisa Robertson (From Bunessan). Other well-known traditional Scottish songs from the ancient to modern were also performed. Download our A Scottish Celebration! programme here.
ANIMAL CRACKERS! - May 2018
A programme all about animals and nature, centred around Eric Whitacre's hugely fun Animal Crackers (based on poems by Ogden Nash) and Andrew Carter's fantastic Benedicite, with further contributions from Aaron Copeland, John Taverner, Irving Fine and others. Download our Animal Crackers! programme here.
A FOLK CHRISTMAS! - November 2017
Here we performed a delightful programme of contemporary carols and seasonal folk songs, featuring Peter Warlock's quirky Three Carols and Vaughan Williams' enchanting Winter Folk Songs for upper voices. Music by Lauridsen, Rutter, and Chilcott added an exciting range of colours, styles and moods, ranging from the contemplative to the exuberant. A rousing celebration and reflection on the festive season! Download our A Folk Christmas! programme  here.


PSALM FEST! - May 2017
Inspired by the 150 deeply spiritual and symbolic Psalms of the Bible this programme included psalm settings from the Baroque period through to the 20th Century, including Alessandro Scarlatti's uplifting 
Dixit Dominus
, Montiverdi's 
Cantate Domino 
and Lili Boulanger's dramatic and exciting 
Psalm 24
. Support from rising stars of instrument and voice from the Royal Conservatoire of Scotland added a real air of class to this beautiful programme. Download our
Psalm Fest!
programme
here
.


ON CHRISTMAS NIGHT - Christmas 2016
An uplifting programme of nocturnal carols and songs to celebrate the peace and magic of the festive season. Well known 'night' carols were interspersed with songs from Benjamin Britten's Ceremony of Carols and Bob Chilcott's On Christmas Night. The evening closed with the hugely enjoyable 'Twas the night before Christmas! arrangement by Ken Darby. Download our On Christmas Night concert programme here.


IN BLUE - May and June 2016
A thoroughly enjoyable programme of jazz-infused music for choir and jazz ensemble, including the beautifully melodious Little Jazz Mass by Bob Chilcott, Duke Ellington's Come Sunday, I Have a Little Shadow by Jazz Master Dave Brubeck, and a selection of Beach Boys greats. Will Todd's very exciting Mass in Blue was a joy to perform alongside super-sassy jazz soloist Lisa Cassidy. Download our In Blue concert programme here. 


A GOSPEL NOEL - Christmas 2015
Here we gave a thoroughly upbeat celebration of Advent in a concert of negro spiritual and gospel favourites including 
Wasn't that a Mighty Day
, 
Rise up Shepherd
 and 
Go tell it on the Mountain
 and featuring John Rutter's rousing medley, 
Feel the Spirit
.
Lynn Bellamy
performed the mezzo-soprano solo parts beautifully. Download our
Gospel Noel
concert programme
here
.


IN MEMORIAM - May and June 2015

Spanning five centuries, from the Baroque to the present day, our programme comprised works written in memory of others, including Beethoven's Elegischer Gesang, Buxtehude's Mit Fried und Freud, Eric Whitacre's Sleep and Sheena Philip's Music for Jill, exclusively licenced to Cunninghame Choir. The concert highlight was Maciej Granat's Requiem, written in memory of his aunt, Bozena Lanowska, his first piano teacher. Download our In Memoriam concert programme here. Watch the recording of Requiem below.
SILENT NIGHT - Christmas 2014

Commemorating the extraordinary Christmas Truce of 1914, this programme comprised anthems and carols from the UK (Christians Awake, Sleep Holy Babe), France (Les Anges Dans Nos Campagnes, Cantique de Noel), Austria and Germany (O Tannenbaum, Stille Nacht) interspersed with readings of eye-witness accounts of this magical and peaceful event that took place in the midst of a bloody war. Further information and reviews of this concert can be found on our Facebook page.


FOR PEACE - May 2014
In commemoration of 2014 marking 100 years since the start of World War 1 we chose an anti-war theme, including Sir Richard Rodney Bennett's SATB plus 'cello piece, A Farewell to Arms, John Rutter's uplifting arrangement of Down by the Riverside and Karl Jenkins' massive choral number, The Armed Man. Please read our Reviews of this concert.


A St ANDREW'S CELEBRATION - Christmas 2013
A performance of Ken Johnston's arrangement of some very well known Scottish folk songs - I Landed with Seven Men - telling the story of Bonnie Prince Charlie and the Jacobite Rebellion. Also performed is a work commissioned by the British Federation of Young Choirs - John Gardner's A Burns Sequence, which sets a selection of poems by Robert Burns to music. The programme also featured pieces by Alasdair Nicolson, Sally Beamish and Tom Cunningham, with texts by Robert Louis Stevenson and Alexander McCall Smith.


BRASS SPECTACULAR - Spring 2013
A programme that is a celebration of British choral music centred around a number of exciting works for voices, brass, percussion and organ: Jonathan Wilcock's rousing Magnificat and John Rutter's Gloria.


JOY TO THE WORLD - Christmas 2012
A celebration of Christmas music from around the globe, with works from Britain, China, Africa, Australia, Germany and more.


CHORAL MASTERS - Spring 2012
Handel, Bach, Mozart, Schubert...some of the most cherished names in choral music are brought together in this programme, with classics like the Mozart Coronation Mass heard alongside lesser-known masterpieces including Bach's Cantata 150 - Nach dir, Herr, verlanget mich.


A CHRISTMAS HALLELUJAH - Christmas 2011
In a concert marking the fiftieth anniversary since the publication of Oxford University Press's ever popular "Carols for Choirs", we sing some of this series best known Christmas pieces, before taking on some great British choral Christmas favourites: Finzi's In Terra Pax, Vaughan-William's Fantasia on Christmas Carols and Handel's ubiquitous Messiah.


REQUIEM - Spring 2011
The much-loved Faure Requiem Mass in its original five-movement version is heard alongside John Rutter's 1985 Requiem, with short choral gems by Franck and Saint-Saens.


WINTER FROST - Christmas 2010
A programme combining winter-themed pieces such as Elgar's The Snow, Chilcott's Midwinter and Rutter's When Icicles Hang, with Randall Thompson's beautiful settings of country poems by Robert Frost - Frostiana.


ITALIAN INSPIRATION - Spring 2010
Every piece in this programme is connected to Italy in some way or another. Great Italian choral works by Puccini (his Messa di Gloria) and Vivaldi (the Credo in E minor) are juxtaposed with pieces by Mozart and Liszt inspired by Italy.


SONGS OF AMERICA - Christmas 2009
An American programme of two halves; the first features pieces by American composers related to the winter season and Christmas, including Amy Beach's Bethlehem - A Christmas Hymn and O magnum mysterious by Morton Laurisdsen, while the second centres on folk, country and Broadway songs from across the pond, with music by Copeland, Barber and Bernstein.


GLORIA! - Spring 2009
A programme incorporating some of music's most uplifting and exciting choral works, featuring Gloria by Poulenc and Vivaldi, and settings of the Jubilate Deo by English composers John Ireland and Sir Charles Villiers Stanford.


THE AULD ALLIANCE - Christmas 2008
A St. Andrew's Day concert celebrating a very famous partnership, combining a host of French Christmas carols and Faure's evergreen Cantique with traditional folk songs and lullabies from all over Scotland.