Welcome to Cunninghame Choir!
Hallelujah! Normal Service Returns for our 2022-23 Session! 
After the difficulties presented by covid, and those zoom rehearsals of 2020 and 2021, we're up and raring to go for another proper season of in-person rehearsing without face masks, on our usual night and in the usual place: Wednesday evenings 7.15-9.30pm at Beith Community Centre, Kings Road, Beith.
Join us for a series of Open Rehearsals, from Wednesday 7th September, for our Christmas Magnificat! concert. New and returning members will be warmly welcomed by our small and friendly group. 
More information about Cunninghame Choir below.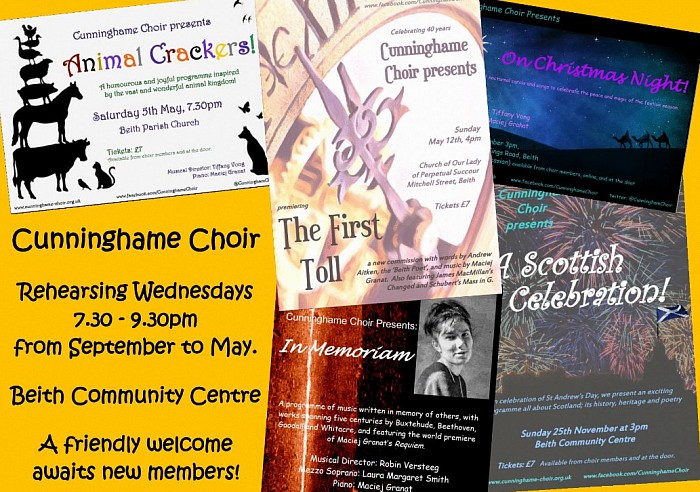 About Cunninghame Choir
Welcome! Cunninghame Choir is a friendly and enthusiastic non-audition amateur adult choir based in Beith, North Ayrshire in the West of Scotland. Established in 1978, we are a mixed-voice (4 parts) choir with willingness and enthusiasm. We don't take ourselves too seriously, but do reap the rewards for our efforts. Our musical repertoire is wide and varied and is not limited to classic and sacred works. Recent themes have included Scottish Folk, European, Gospel, Blues as well as classical choral spanning the centuries to new works and commissions. Tiffany Vong, our Musical Director and graduate of the Royal Conservatoire of Scotland, has recently completed her third full season at the helm. Under her direction, the choir is sounding better than ever. We thank her for her unwavering enthusiasm, commitment, encouragement and patience! Piano support is provided by our long-standing and equally talented accompanist, Maciej Granat.   
We meet at Beith Community Centre on Wednesday evenings between September and May and we perform two concerts each year. New members are warmly welcomed and encouraged - have a look at our Join us page for more information.
40 Years of Cunninghame Choir!
Our Spring 2019 concert, The First Toll, celebrated 40 years of singing and performing together, and took its title from a new and dramatic commission from our very talented composer/accompanist, Maciej Granat. This work set music to a poem by local character, Andrew Aitken, musing on hearing Beith's Parish Church bell toll for the first time in 1810. A recording of this performance can be viewed on our Concerts and Repertoire page. This concert also featured a previous Cunninghame Choir World Premiere from renowned Scottish composer, Sir James MacMillan, alongside the elegant Mass in G by Franz Schubert. For regular updates on our rehearsals and concerts please Like Us on Facebook and Follow us on Twitter.